FIELD SERVICE MANAGEMENT SOFTWARE HELPS WITH THE MANAGEMENT OF A COMPANY'S RESOURCES ACROSS ALL ASPECTS OF THEIR TEAM OR WORKFORCE.
WE WORK WITH INDUSTRIES SUCH AS:
Fire Safety & Testing
Fire alarm testing and maintenance of fire equipment across various sites.
Gas Utilities
Engineers dispatched to upgrade or install equipment, inspect or repair suspected gas leaks.
Property Services
Field workers who carry out maintenance including landscaping, irrigation, home and office cleaning and general building maintenance and repairs.
Plumbing & Heating
Field engineers with on-site installations, scheduled upgrades, reactive maintenance and repairs.
Health Care
Mobile home care nurses who have scheduled call-outs to patients.
Electrical Contractors
Domestic, commercial and industrial contracted electricians with scheduled maintenance, installations and repairs.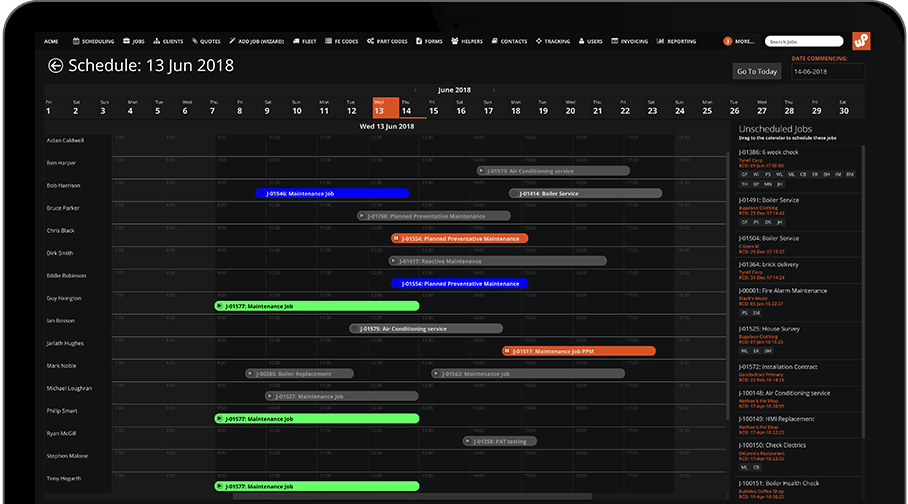 Job Scheduling
WorkPal is specifically designed as a field service management software. Its robust scheduling system ensures job conflicts do not occur.
WorkPal's scheduling tool enables dispatchers and planners to see exactly what is happening in real time and to plan ahead to ensure that resources are available to meet current and anticipated demands.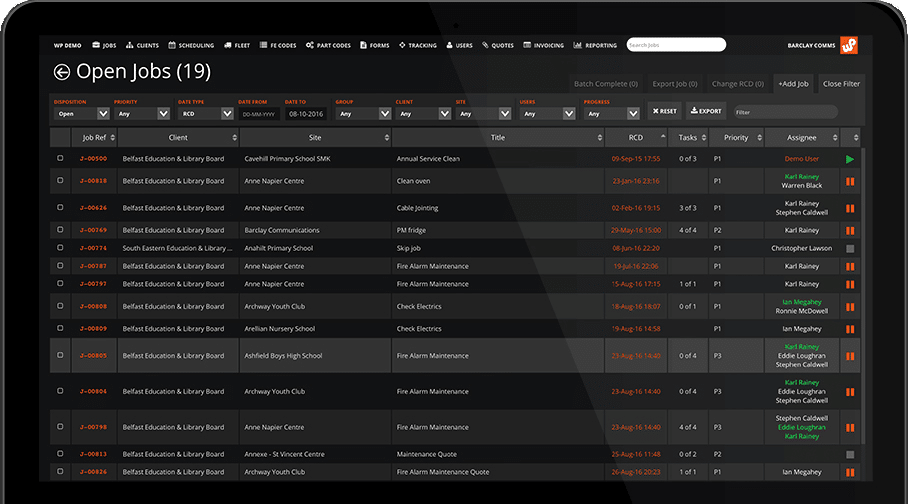 Live Job Lists
REAL TIME STATUS | FILTERABLE | CUSTOMISABLE
At a glance, see all jobs being currently worked on. With WorkPal's live job list see statuses and times change in real time.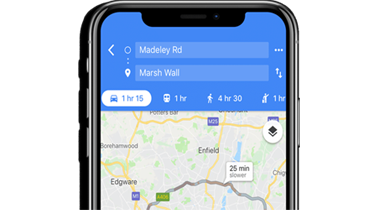 GPS Location Tracking
The real time tracking function allows you to keep completely up to date with your mobile team's activities, where they are and where they'll be going next.
This information is vital in order for you to assign, monitor and track mobile workers and to continually optimise performance.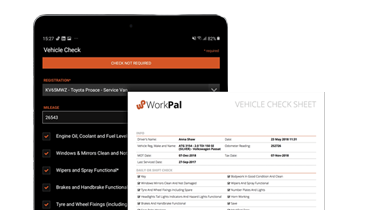 Digital Forms
Setting up your WorkPal install you have the option to work with the team to have your paper based forms developed as part of the field service management software.
Data captured from the app will be automatically synced back to the desktop providing your forms for email and export. Never lose documents again.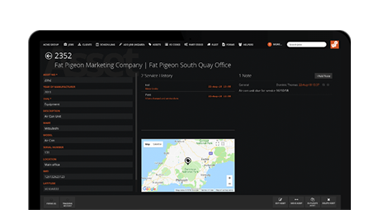 Asset Management
WorkPal allows you to monitor and track the service history and movement of your assets. Asset scanning, where mobile workers can scan a QR code or bar code through WorkPal.
This helps field staff to identify specific assets, log any faults, and record any material used to improve first time fix rates.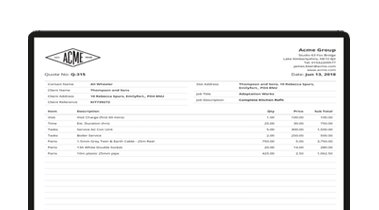 Quote Management
WorkPal's ability to accurately book jobs, forecast costs and timescales and dispatch your mobile workforce to best effect, radically improves the process of providing sustainable, viable business quotes.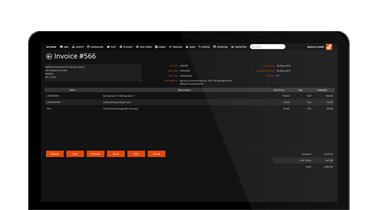 Invoicing
WorkPal immediately captures all of the costs associated with each job and can integrate seamlessly with QuickBooks Online, Xero and Sage.
WorkPal's field service management software calculates hourly rates, materials used and service costs on a client-by-client basis, and relays this information to back office. This dramatically speeds up quoting and invoicing, saving time and improving cash flow with paperless, bulk invoicing.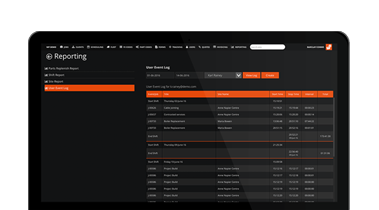 Reporting
With WorkPal all your staff's time on jobs are automatically logged and synced back to the office. Storing all your time allows WorkPal to provide shift based and user log reports, which can be exported from the system.
Reports specific to your needs can be developed upon setting up your WorkPal instance.
"WorkPal makes things quick. We have to be fairly reactive and with call-outs it's great, because we can see who the closest engineer is and quickly send them the job."